Home Automation
Home Integration is one of the most exciting things we do at Vermont Electronics. Home integration is one of the things that can make a good home a great home. The possibilities are almost endless. Here are just a few of the things home automation can add to your home.
Listen to music from most any source and any room in the house.
Design your heating system so that you can turn up the heat from hundreds of miles away.
Install a media server capable of holding thousands of songs and hundreds of movies that's accessiable from any room in the home.
Automate your system so that when you drive up the driveway lights turn on automatically.
Program environment sensors in your wine cellar to warn you if the temperature has dropped below a chosen level.
If you are interested in Home Integration and Automation stop by or give us a call so that we can discuss your options with you. Call us today for a free consultation 802-253-6509.
Lighting Control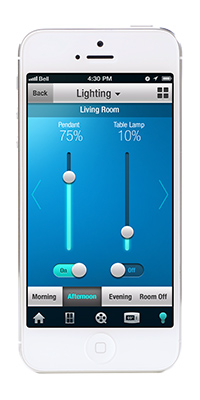 Why is lighting control becoming very popular? Energy savings, security and design tend to be the biggest drivers in this decision. Having better control of your lights not only saves energy but can extend the life of your bulbs themselves. Some of the brands we use depending on the application are Crestron, Lutron and Leviton. Please give us a call so that we find the right solution for your needs.
Lutron Lighting Solutions
HomeWorks has been the leader in light control for luxury homeowners for over a decade. A HomeWorks system provides convenient, intelligent and sophisticated control of your home's lighting and shades, and can be integrated with security and audiovisual systems. In addition to enhancing your lifestyle, HomeWorks' Architectural and Designer style controls can also enhance your décor and complement your home. Centralized dimming panels can be used to provide control of multiple zones of light in a room or throughout your home from a single keypad.
Crestron Lighting Solutions
Crestron lighting controls help rooms look their best, while improving the comfort and enjoyment of occupants. Our solutions offer customizable control of all your lights, plus control of everything else in your home at the touch of a button.
Imagine simplified controls that allow you to coordinate your lighting needs with other systems in your home. With the touch of one "scene" button, everything is set to exactly as you like. The "Wake" scene raises the automated shades, turns on the lights, and adjusts the temperature to your preferred setting. Want to watch a movie with the family? The "Showtime" scene closes the shades, dims the lights, and starts your media system. "Good Night" sets everything for a great night sleep. With Crestron controls you can customize an unlimited number of scenes to match your lifestyle.
Crestron offers comprehensive lighting control solutions for any project—from new construction, to major renovations, to minor retrofits. We offer both wired and wireless control solutions that integrate with other systems, allowing virtually unlimited configuration, expansion, and flexibility. Check out what Crestron lighting solutions can do for you.
Shade Automation
Window treatments not only add to the beauty to the house, but can help save on the energy bill and protect your valuables from the sun. Some of the types of window treatments that can be automated include:
Venetian Blinds
Drapery Track Systems
Insulating Honeycomb Shades
Tension Shades Roller Shades
There is a large selection of fabrics and colors to choose from. You can even have your own custom fabric if you don't like the selections.
Crestron Shading Solutions
Our integrated lighting control solutions include motorized shades - adding beauty, convenience, and comfort throughout the home. Featuring exclusive Quiet Motor Technology™, Crestron shades provide silent operation and convenient, one-touch control. What makes Digital QMT™, our exclusive motor technology, so unique is the brushless motor design. Brushes in DC motors wear over time, causing the motor to fail. Our new brushless motor provides greater reliability, much longer life, and ultra-quiet operation. Even better, automated shades lower utility bills and increase the home's value and security.
Lutron Shading Solutions
Sivoia QS is the next generation of shading technology from Lutron, and the ideal solution for total light control. Sivoia QS can control the entire Lutron family of automated window treatments, including roller shades, traditional drapery tracks, the Kirbé® vertical drapery system, tensioned shades, Roman shades with CERUS® safety technology, horizontal sheer blinds, pleated shades, and fashion honeycomb shades. Its simplified wiring and common communication language allow for easy integration with Lutron lighting controls.